Gutter Cleaning service in Corona, Norco, Eastvale, Yorba Linda, CA
I made a short movie that gives a little peek of the many of days captured in the life of the many of kids I got to train in window cleaning around town, and many of them helping them navigate their young lives. The clips go all the way back to 2012 and the memories are priceless.
One of my hobbies when I'm not running dirt and grime outta town is flying quad-copters more affectionately known as drones.
The aerial footage you see is Window Cowboys corporate copter! We also used a go-pro on a water-fed pole to really get up close and personal to really illustrate how effective pure water method of window cleaning is when done correctly. I think I enjoy capturing pics, videos and aerial footage more than anything. It's an incredible rush to capture drone footage most of all.
If you look at content on Instagram, all us window cleaners around the globe have a friendly competitive side to our posts. Of course I'm going to encourage you to follow me on instagram, You really get a peek inside of
Gutter Cleaning service in Corona, Norco, Eastvale, Yorba Linda, CA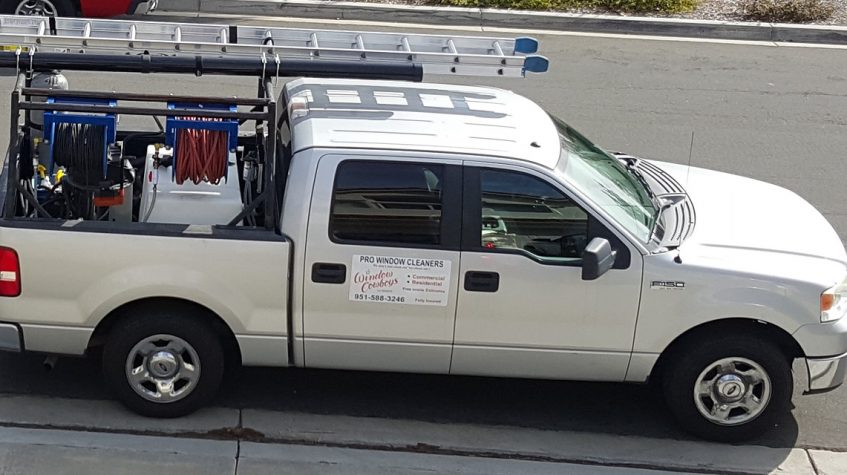 This is one of my older trucks (2007) I affectionately call "The Dictator" She has 173k as of 2020 and has seen her share of time under the wrench. My newer truck was actually stolen off my driveway. Imagine going out to your lively-hood on wheels only to see an empty space. It was mostly a pane in the glass to replace everything if you know what I mean. That's one of the harder hits we took being the small family biz we are. But hey!…When Cowboys get bucked off their bronco's, they get back up on the horse.
Eventually we got our legs back under us and bounced back. Through it all though, "The Dictator" was there for us…Until it needed a valve job in 2019
You'll have to read my blog for that story, which by the way is in the main menu
Gutter Cleaning service in Corona, Norco, Eastvale
Proudly Serving Corona, Norco, Eastvale, Riverside, Ontario, Yorba Linda, Anaheim, Anaheim Hills,